Dushanbe, Tajikistan-On May 7th, the Executive Committee of the Asian University Sports Federation (AUSF) had the first meeting of 2016 in Dushanbe, the capital city of Tajikistan. It was also the first time for the AUSF EC to have its board meeting in this mountainous country, and the second time in Central Asia. This year marks the 25th anniversary of Tajikistan getting independence, and AUSF decided to have the meeting and 1st Asian University Boxing Championship held here as a salute to Tajikistan. AUSF President ZHANG Xinsheng (CHN), Senior Vice President Omar A. AL-HAI (UAE), Vice President CHEN Kunning (TPE), Vice Secretary General XUE Yanqing (CHN), Assessors Hisato IGARASHI (JPN), JARGALSAIKHAN D. (MGL), Mahdi TALEBPOUR (IRI) and Auditors Kairat ZAKIRYANOV (KAZ), HA Woong Yong (KOR) attended the meeting. FISU Assessor CHEN Tai Cheng, Chinese Taipei University Sports Federation President CHIANG Han Sun were invited to be present as well.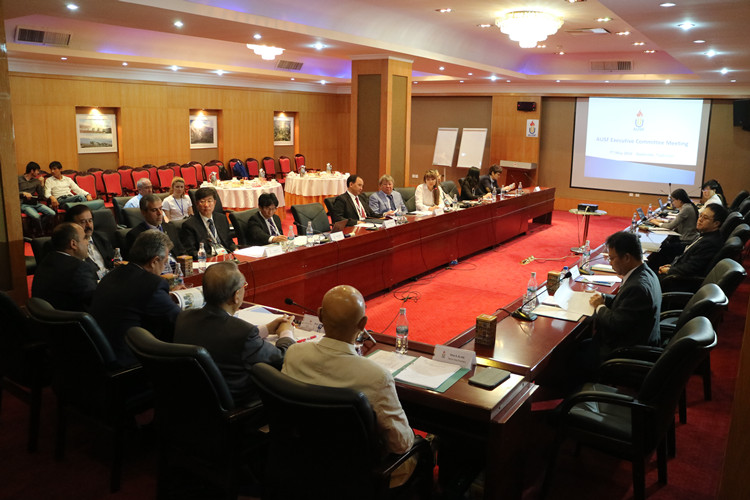 President ZHANG Xinsheng opened the meeting with a warm welcoming speech, he thanked Tajikistan University Sports Federation for all the wonderful arrangements, which made everybody feel at home. He highly praised the role Tajikistan played in the field of university sports. He said Tajikistan showed its confidence and devotion to Asia through this event.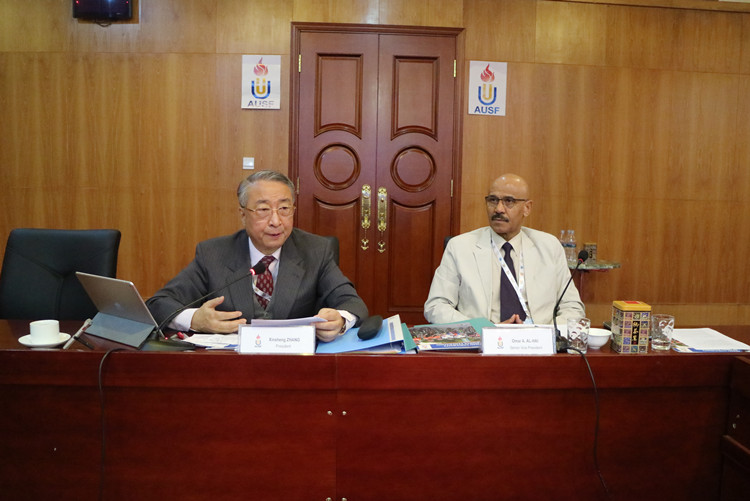 On behalf of the Tajikistan government, Mr. Nuriddin SAID, the Minister of Education and Science, extended the warmest welcome to all the EC members and guests. He said Tajikistan is willing to host more university sport events in the hope to connect more with Asian friends. Mr. Abudullozoda Ahtam RUSTAM, Chairman of Committee for Youth Affairs and Tourism of Tajikistan, expressed his sincere gratitude for AUSF's trust and support for hosting 2 events in Dushanbe, and he hoped to be closer with AUSF friends.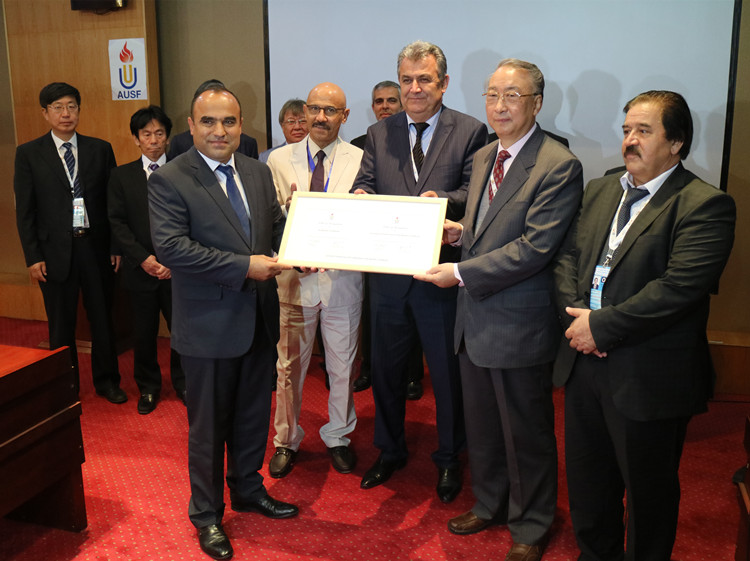 After the exchange of the souvenirs, the meeting went on according to the agenda. The meeting was very productive. The update and revision of AUSF new website was approved, which will be in function within this month. Through it, AUSF events and information on AUSF member federations can be shown to the whole world. Beijing Tai'ao Sports Development Co., Ltd., a Chinese leading professional sport floor producer, became the official AUSF sponsor, which ever sponsored AUSF from 2009 to 2012. In the future, AUSF will be focus on the media and marketing exploration. For the calendar, it was approved to have education projects added, with Seminars for Secretary General in even year in conjunction with the General Assembly and Intensive Training Program for administrators in odd year. The Guideline on Educational Projects will be issued soon. The progress reports were made on the following events to be held in 2016:

• 3X3 Basketball, Macau, China July 19-24
• Football, Taebaeksan City, Korea, Sep. 1-7
• Women's Basketball, Taipei? Chinese Taipei, Sep.6-11
• Men's Basketball, Ulaanbaatar, Mongolia, Sep.18-25
• Cycling, Chang Neyong, Korea, Oct.14-16
• General Assembly and Seminars for Secretary Generals, Xiamen, China, November 19-24.

For more information, please keep on visiting www.ausf.org.
(Source: AUSF Secretariat)