Cheonan & Onyang, Korea - The Opening Ceremony of 1st Intensive Training Program for Asian University Sport Leaders was held in lecture room of Dankook University Cheonan campus at 8: 30 on the morning of 29 Dec. 2015. Nearly 40 Participants from Bangladesh, China, Hong Kong China, Iran, Macao China, Malaysia, Philippines, Singapore, Chinese Taipei and Korea will attend the 8-hour a day, 8-day long training program at Dankook University, which was very intensive. This program is aiming to provide Asian sport leaders a platform to understand the development and university sports in Asia and exchange ideas on how to promote its development, combining academic sessions with cultural educational and sporting activities. Dankook University President CHANGE Hosung who is AUSF Vice President as well, AUSF Senior Vice President Omar AL-HAI, AUSF Vice President CHEN Kunning, AUSF Secretary General Kenny CHOW, AUSF Treasurer SEETOW Cheng Fave and President of Korean University Sports Board, FISU Assessor Mr. YOU Byong-Jin attended the ceremony.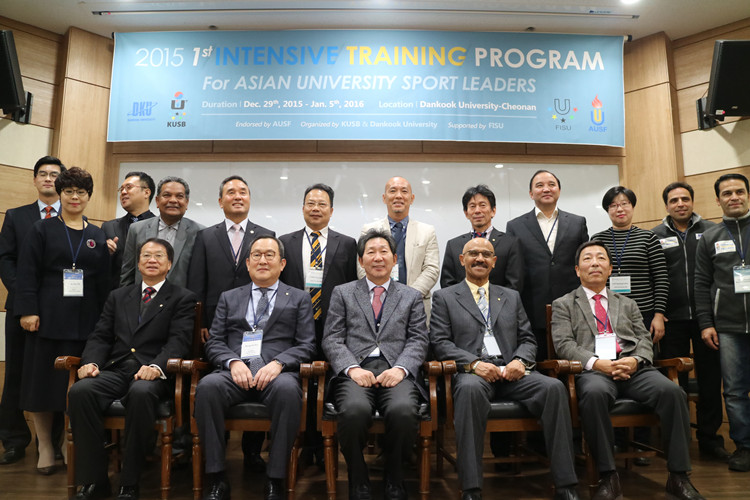 Mr. CHANG Hosung made the opening address to welcome all the participants to Korea and expressed the idea of develop and communicate within Asian countries to develops university sports. After that, Mr. Omar AL-HAI delivered a speech on behalf of AUSF Executive Committee. He said that he believed the 1st intensive training program in Korea will leave a good print to the development of educational program in the future and extended thanks to the hard work of OC and volunteers.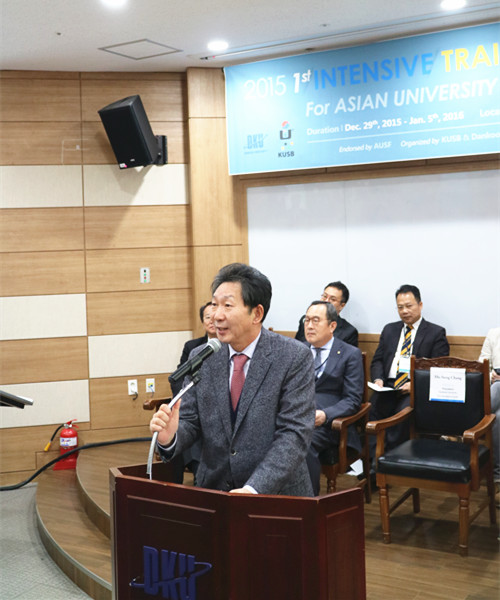 Mr. YOU Byong-Jin announced the opening of the program after his speech to welcome friends from AUSF member countries and thank Dankook University's contribution to the program.
Before starting classes, on behalf of AUSF, Mr. Omar presented a crystal cup to Mr. KANG Shinwook in appreciation for the hard work taken by OC.
The first lecture was presented by Mr. Kenny CHOW, who mainly introduced history, objective, organizing structure and events of AUSF, and then discussed the future direction. Mr. Muhamad Mohd. HANIF, Secretary General of ASEAN University Sports Council lectured on International Sport Diplomacy and stressed the importance of diplomatic skills of in sporting exchanges. His vivid examples and humorous teaching mode made a good interactions with the audience.
After finishing the class at 15: 00, all the participants took the 35-minute bus to Onyang for the Asian University Sports Forum. 1 keynote speech and 3 presentations were delivered under the theme "Shapes of the Development of Asia Collegiate Sport and Its Future Challenges". Mr. Hisato IGARASHI, FISU and AUSF assessor, and Mr. Muhamad Mohd. HANIF from Malaysia introduced the development of university sports in East Asia and Southeast Asia respectively, as well as the challenging they are facing.
At last a penal discussion was staged, audiences raised questions concerning university sports to Mr. Hisato IGARASHI, Mr. Muhamad Mohd. HANIF, Mr. SEETOW Cheng Fave, Mr. Kenny CHOW and Mr. HA Woong Yong. Though time was limited and the discussion might not be as profound as writing academic papers, the speakers still exchanged ideas with the participants and with each other on issues such as how to even between education and sports training for athletes and what qualities of AUSF are appealing to sponsors, etc.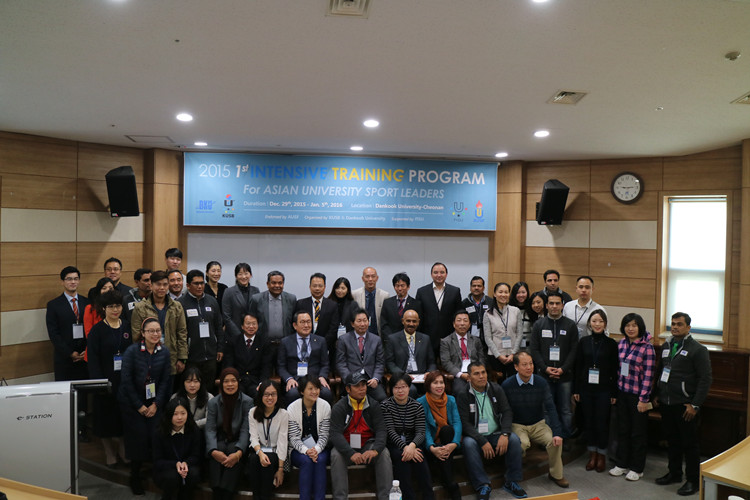 For more information, please keep on visiting www.ausf.org.
(Source: AUSF Secretariat)