New Taipei, Chinese Taipei - "Let's all make this a very successful championship!" With the spectacular performance of the Fu Jen University cheerleading team, the 1st AUC Badminton officially kicked off with a flying start! Five categories of contests will start off with the round of 16 matches, and finishing with the quarter-finals line-ups at the end of the first day.
The local player who took the oath on the Opening Ceremony, Wen-Chi Hsu, got off with a winning start in today's match. Facing Rui-Chen Yap from Malaysia, Hsu lost the first game but came back strongly in the next 2 games to win 19-21 21-10 21-6. When asked about the key reason for winning, Hsu said: "I observed the opponent's stamina declining, so I seize the right moment to attack."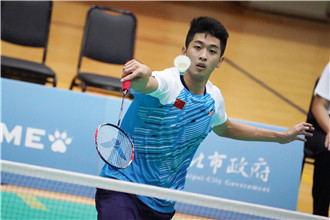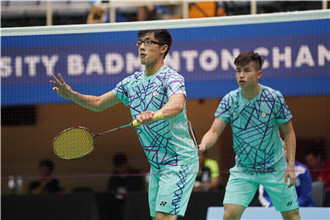 As the former winner of BWF World Junior Championship, Gui-Pu LIN (CHN) demonstrated excellent skills on the court. In the first round of men's singles, he was victorious over MAK Pak Nagi (SIN) with a score of 21-9 21-16. " I will try my best to achieve better results from hereon," said Lin.
Several players had to compete in two matches today due to their participation in two categories. For Sing-Ying Yuen (HKG), it was quite tiring but together with Tak-Ching Chang, they ousted the second seed Chinese Taipei mixed doubles pair with a 21-16 and 21-11 win.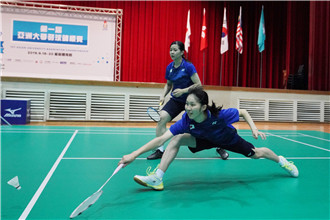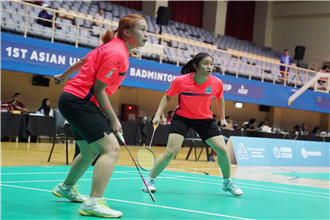 While in women's doubles matches, Sing-Ying Yuen and her partner Shiu Yee Ng faced a long-drawn encounter but lost eventually against their Malaysian opponents – Anna Ching Yik Cheong and Payee Peiy yee Lim. "Our service and return of serve need to be more aggressive," said Malaysian pair about preparing for the next match.
The last match of the day was the men's doubles match between 2018 WUC Badminton men's doubles champion Malaysians Juan Shen Low and Nur Mohd Azriyn Ayub, and Lap Yan Pong and Hoi Kit Tang from Hong Kong China. It was a hard fought three games against victory in the end for the Malaysian pair. Low said, "Today we were too anxious. We need to prepare well in order to face team Japan tomorrow."
As the competition progresses to the quarter-finals stage, the intensity of the matches will certainly go up a few notches. Who will reach the semi-finals and eventually the finals of 1st AUC Badminton? Stay tuned for more actions and results on 19th September, the second day of the championship!
For more information, please visit www.ausf.org.
(Source: AUSF Media Committee and Secretariat)