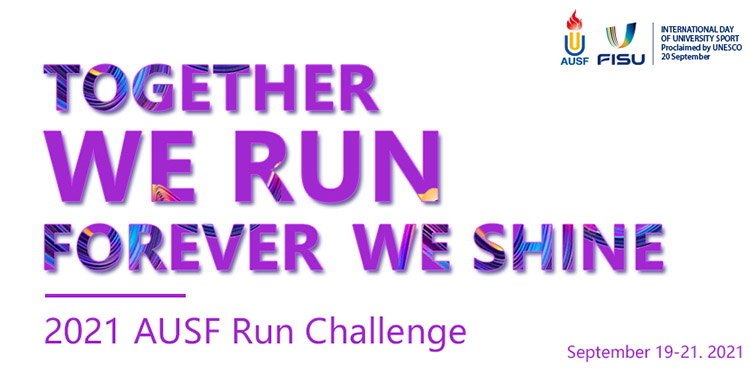 Asian University Sports Federation (AUSF) will be celebrating IDUS2021 with the second edition of the AUSF Run Challenge again!
16000 participants from 9 member federations including China, Hong Kong China, India, Iran, Korea, Macau China, Singapore, Malaysia and Chinese Taipei, will take part in the virtual run from September 19th to 21st.
The theme for this year's Run Challenge project is "Together We Run, Forever We Shine". Through this event, AUSF hope to mobilize more people to embrace physical activities as a part of their daily lives. With our combined efforts and solidarity, the light at the end of the tunnel is getting brighter.
As COVID-19 pandemic is still rampant across the world, large-scale in-person sports competitions are still not possible for the time being, but the Asian university sports community has never ceased the efforts to sustain the university sports movement, including successfully hosting university championships - eg online chess and cheerleading competitions, as well as this Run Challenge.
Following the inaugural Run Challenge in 2020, with participation of more than 40,000 participants from 9 member federations, AUSF will continue with the momentum this year, demonstrating the determination of the whole Asian university sports community.
All university students, faculties, or NUSF staffs from AUSF member federations are welcome to participate in this event. Each team comprises 4 persons from the same NUSF, regardless of age, gender and ethnicity.
Each of them must finish his/her own share of the total distance and complete 20.21 kilometers together. They can run together at one location if situation allows, or run separately at different locations.
To better view the results, participants need to download an APP to record the whole process of their running, screenshot their results and submit to the respective NUSF. All participants whose team completes the required distance successfully will be awarded with certificates of participation.