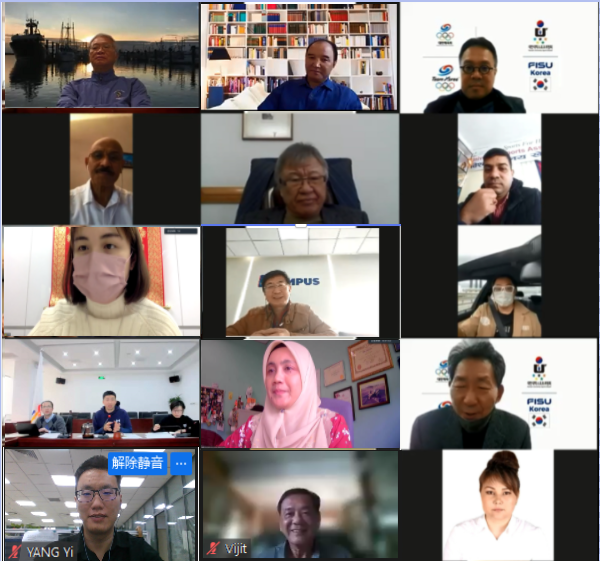 On 18 January, at the beginning of the New Year 2022, AUSF board members met for the first time via ZOOM platform to assess the current pandemic situation and made contingency plan for 2022 AUSF events.
This meeting came when the whole world including Asia is seeing a surge in the new number of COVID-19 cases caused by the Omicron Variants, bringing about unexpected challenges and uncertainty to the Asian university sports movement.
President XUE opened the meeting with a happy new years' greetings to all the attendants. The Secretary General's Report reviewed major works fulfilled in past the two months or so, which included the conclusion of the first ever AUSF Online General Assembly, the recent exchanges with FISU and other continental federations. "The results sought from the survey member federations regarding pandemic situation and policy in respective country or region will be very helpful for executive members to make decisions in the session", said by Kenny CHOW, Secretary General of the AUSF.
After the reports, AUSF Events in 2022 were assessed carefully in accordance with the Organizing Committees' progress reports, who all reiterated their strong intention to stage the championships as scheduled. Considering that pandemic situation is still changing, the Organizing Committees of 2022 events were requested to make different operational plans under different scenarios to next Executive Committee meeting, in order to make a more reasonable and reliable decision.
The meeting was also highlighted by the update regarding 30th anniversary of AUSF. 2022 will be an extraordinary year for the whole international university sports community, when Chengdu 2021 FISU World University Games will be held from 26 June to 7, July. The Heads of Delegation Meeting will be held on 28 February. "I hope all sub-regional leaders would help motivate member federations in respective regions of Asia participate in this important meeting to gather pandemic control, international travel, and other competition information, etc.", President XUE Yanqing encouraged.
To keep a close eye on the evolvement of pandemic situation, the next meeting will be held on 16 March.
(Source: AUSF Secretariat)